Free extension: Pixabay Images for Navigate CMS

Pixabay is one of the largest websites who allow users to obtain public domain images to be used for free in any kind of website, even the commercial ones.
Today Navigate CMS is releasing the Pixabay Images extension which you can use to find any image offered on Pixabay and download it with a single click. The extension is very easy to use and completely integrated in our application.
Requirements
To use the Pixabay Images extension on your site you need two requierements:
Navigate CMS updated to 2.6
Pixabay API Key, which you can obtain registering for free on the Pixabay website
(optional) if you want to download high resolution images, you need to ask for it to Pixabay giving you API key
Screenshots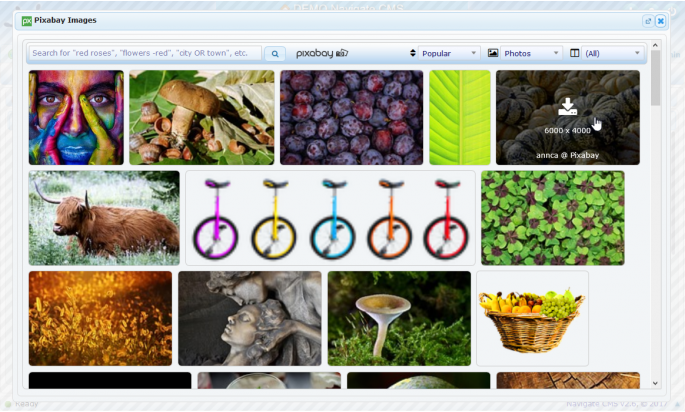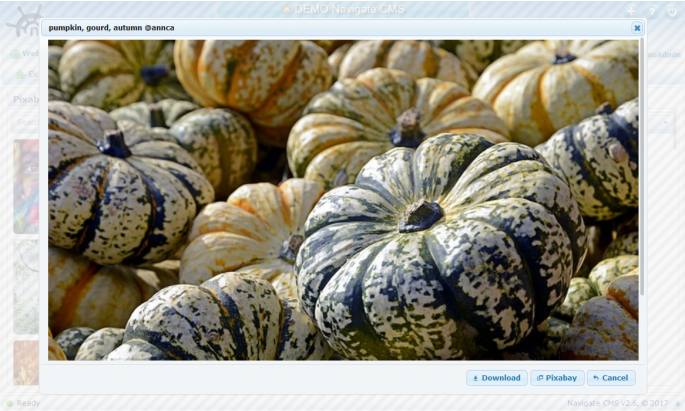 Features
Search Pixabay's CC0 public domain pictures running the extension or clicking on the Extra / Pixabay images button when editing a content
Filter search results by image type (clipart, photo) and/or orientation (horizontal, vertical)
Infinite scrolling in search results
One click to download the image
High resolution downloads (needs Pixabay approval)
Download
Find the latest release and installation instructions on GitHub.