Export sample content
The best way to create a high quality theme is test every section of every template and the easiest way to achieve it is by creating some sample content. That means you'll have to install a copy of Navigate CMS in your computer or use one instance already installed in a server.
Either way, you will end up creating a structure and surely some content elements. Why not refine this example content and include it along with the theme files?
Navigate CMS has functions to export and import the sample content of a theme very easily.
1 Access Web > Themes in your Navigate CMS installation.
2 Click on Export sample content.

3 A form with five tabs will appear: Structure, Elements, Blocks, Comments, Files.
4 In Structure we have to choose the categories that will be included in the importable file. Click on a title to select that entry, click again to deselect it. Click on the + icon to see subcategories and be able to select them. Selecting a parent category DOES NOT include its children. Finally, if you want to include all structure entries of the tree, just click on the Select all button.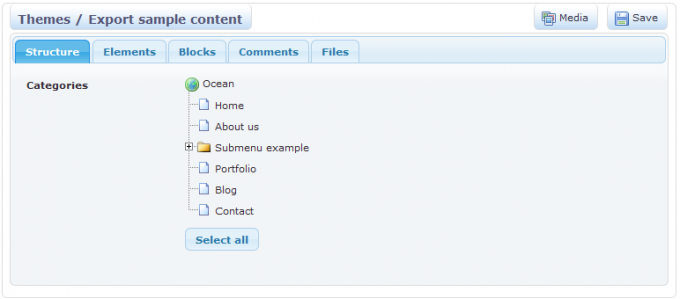 5 In Elements we select what contents will be added to the export package. A click at any place of the row will select it. At the top-left of the table there is a checkbox that will select all VISIBLE rows. Be sure to scroll down the list and make sure all rows you need are selected.

6 Blocks displays a table with the same functionality as Elements. Just click to select the rows to export.
7 Comments. Same procedure as Elements and Blocks.

8 In the Files tab you can select a folder from the website files in Navigate CMS and include all its contents as extra assets to include to your theme samples. Note that all files used in content elements, structure properties and blocks are automatically detected and included. This function is just for extra files: logo variations, extra documentation, etc.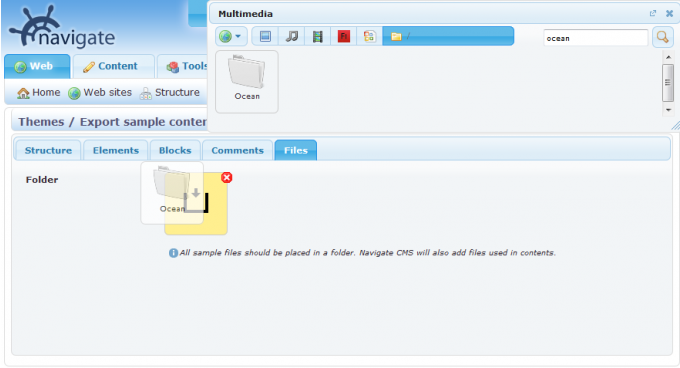 9 Last step is to click on the Save button. Navigate CMS will read all tabs and generate a ZIP file named "ocean_sample.zip" (for a theme called "Ocean"). This file should be included in your theme root for Navigate CMS to find it.